WHAT IS COLLABRIVE
Collabrive is a cloud software-as-a-subscription based collaboration platform for CAD & BIM construction projects. Focused on solving the common issue of how to share files across virtual teams from different companies with different roles, Collabrive is uniquely designed to handle the storage, organization and communication needed to run an effective building project.
Forget manually tracking issues in spreadsheets, trying to follow email chains of changes and getting "file too large" when trying to send through email. With Collabrive, you can collaborate on all of your 2D, 3D and BIM models right in your browser leaving comments and corrections that save time and reduce frustration. Teams that use Collabrive work better together and develop better partnerships that produce higher quality projects.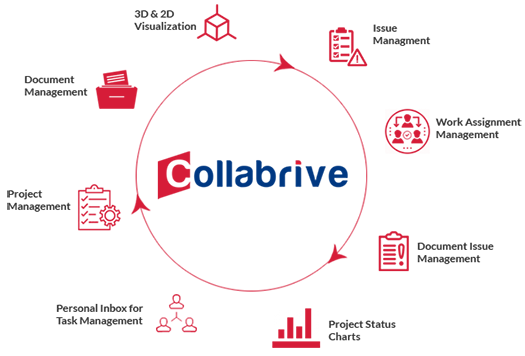 Cloud-Based
Collabrive is a cloud-based application that teams that do not share a common network can easily use to share and comment on documents to work faster and smarter.

Highly Secure
Collabrive utilizes Microsoft Azure which is the most secure cloud application platform to protect your sensitive data.

No Installations
View your 3D model (lfc) and 2D drawings (dwg) right through your browser.

User Friendly
Collabrive uses a highly intuitive UI/UX design so that little training is needed. Simply login and go.

Scalable
You can start with the number of users you need and always increase or decrease to handle changing team sizes on your projects.

Support
If you need help, we're here. Support is bundled into the price and we can provide extra help in training or answering questions.

Project Management
Import, save and export info

Assign users to projects

Assign roles & permissions to users

Document Management
Allocate cloud space for projects

Version control

Create, modify & delete folder directories

Assign document level permissions

3D & 2D Visualization
View files with ease

Switch views, clip & hide elements

Search text in drawing

Zoom in/out

Perform basic calculations

Issue Managment
One dashboard to create, update & view issues

Issue search

Filter and export issues

Work Assignment Management
Task manager

Review/approval queue

Link tasks to files

Document Issue Management
Create issues with 2D, 3D and PDF files

View document with list of all related issues

Version history of issues

Project Status Charts
Task summary chart

Issue summary chart

Easily switch between charts to view progress

Personal Inbox for Task Management
Track all issues assigned to you

Search for issues or tasks by title

Respond to assigned issues

BIM Authoring Tool/Software Integration
You can save the significant amount of the production time with the help of our Collaborative Plugins/Add-on's as it's directly linked with BIM authoring tools like Tekla, which Implies your complex issue management turns so simple, easy and quick

Construction Project Managers
Centralized platform to manage all aspects of the project across multiple stakeholders

Reduce waste through more effective communication and elimination of redundancy

Reduce overall building operational costs to leave room for investment back into

Make sure model/Documents good enough to start Building construction.

Minimize waste on unnecessary materials ordered

You can quote competitive price and accuracy in information takeoff.

Engineers
(Structural,MEP,Detailing,Fabricator,Erector)
Standardized use of the same model/IFS saves time amongst stakeholders in collaboration

Effective tracking & use of project resources

Improved project planning & projections to allow for higher margin projects

Design change management prior to delivery to stakeholders

Resource management utilization & optimization

Document repository of all design changes
To schedule a product demo with one of our product consultants, please fill in your contact details
Get Started for free!
To schedule product demo with one of our product consultants, please fill in your contact details.